Clement and Melissa Lim don't look like the kind of people who are in the car service industry. Dressed in slick corporate-type attire and well-spoken, they seem more suited for banks and offices.
But the siblings are heading CKL Holdings Sdn Bhd, which operates the Lim Tayar sales and service centre chain.
The business was founded by their father, Lim Chee Kong, along with other family members. Chee Kong had worked as a mechanic for a few years before setting out to forge his own path with Lim Tayar in 1985.
No doubt, Clement and Melissa would have spent much of their time at the workshop in their younger days. But repairing cars is not necessarily their expertise.
Clement, who graduated in culinary arts, comments that he is a better cook than a mechanic. At this point, an employee chimes in: he did damage where they needed to do repairs. In his defence, the 35-year-old says managing the business today is about managing people. The second generation has been pushing the company forward with new technology and by taking a more diversified approach. But people, they emphasise, has always been key to the company's growth.
After a year of kitchen work, Clement joined CKL in 2003.
"How hard can it be, right?" his hand motions an airplane lifting off. "You grew up with this."
It wasn't as smooth-sailing as he'd expected. While they had an overall view of the business for a long time, getting to know the nitty-gritty of the company's workings took a lot more time and effort. And having to deal with employees who have been at the company long enough to watch them grow up was not easy.
The core: Its retail chain is its largest sales driver, contributing 70 to group revenue at the moment.
Photograph by thestar
"Everyone who joins the family business gets the title business development manager. Everyone of them. Because there's no place to fit you. You are always business developing.
"But true enough, our job is mainly to develop the business," he says, before noting that he is probably just a glorified salesman.
Pointing to Melissa, he adds, "And she's a glorified actuary."
"We are still earning our stripes," she says.
Their main task is to continually modernise the business while building on family values and new innovative ideas – a delicate balance to maintain.
They restructured some departments and infused the business with new blood. They looked into new business ideas to build an end-to-end system and implemented key performance indicator-driven work measurements.
But getting the buy-in from everyone was not without effort. They not only have to manage the generational gap within the management but also throughout the organisation.
"One thing that we changed is corporate governance. Meritocracy now happens in our company. And when the next family member comes in, [it's a question of] can you compete with the professional managers? And if you can't, then the professional managers will sit on the seat," says Melissa, 32.
But the old guards still remain in the business to provide advice.
Outside the valley: Lim Tayar is currently focused on the Klang Valley and is looking at other states for growth.
Photograph by thestar
Melissa adds that a lot of thought has gone into foolproofing the group's business model to ensure that they continue to build a sustainable group that will outlast the current generation. Apart from its core retail business, which houses the Lim Tayar chain, CKL also has a distribution arm that has been importing products such as lubricants and tyres for the local market since 1995.
Over the last few years, the group also branched out into the education and technology fields to plug the gaps in its value chain.
One issue the siblings came across over the years was the acute lack of manpower in the industry. Clement explains that, by law, the industry couldn't hire foreigners.
"If manpower was an issue, then the only way to go about it is to start a school. So we realised there was an opportunity there and who can do it better than us.
"Any skilled industry will tell you the same thing, they lack manpower. We won't have this gap if we can get foreign workers in. But because our industry is set in such a way that we can't hire foreign workers, we need to rely on local talent," says Melissa.
CKL started School of Skills about four years ago to train local skilled workers to help not just its retail chain but also the industry. The school also gives its employees an opportunity to upskill themselves.
The school offers one to two year courses in various skills such as automotive engineering, electrical, plumbing and air conditioning. Students are placed at Lim Tayar's 20 outlets for first-hand experience before they go into the industry.
"We do have many guys who have stuck with us from apprenticeship and today, they are supervisors and running stores on their own," adds Melissa.
Electric challenge
As technology continues to develop, one of the trends that will change the aftermarket industry is the electric vehicle.
"With electric vehicles, for example, engine oil will not be relevant anymore. That will be a very big shift for the market," says Clement.
He notes that Thailand and the Philippines have been quicker at adopting this technology evolution. Response in Malaysia, meanwhile, remains lukewarm.
Clement attributes this to the "chicken and egg" theory. Should infrastructure for electric vehicles be built first or should car sales drive the industry forward: that is the question.
"I think the challenges for electric vehicle are awareness and infrastructure.
"There is a fear of electric vehicles. The first thing they will ask is how far can the car go? Is there going to be a charging station here or there? So, what gives.
"Also, cars are expensive. But for the cost of [electric vehicle] technology to come down, the adoption rate must go up. For adoption rate to go up, someone has to subsidise this. Something's got to give, right? So is it the government or private companies?" he says.
He is hopeful that the third national car project will be an electric car. That will be a game changer, he comments, and will push the industry forward.
But he believes the time of electric vehicles will come, sooner rather than later.
"We cannot stop evolution," he says.
"I'd rather Malaysia be at the forefront in Asean so that we can get it up and running," he adds.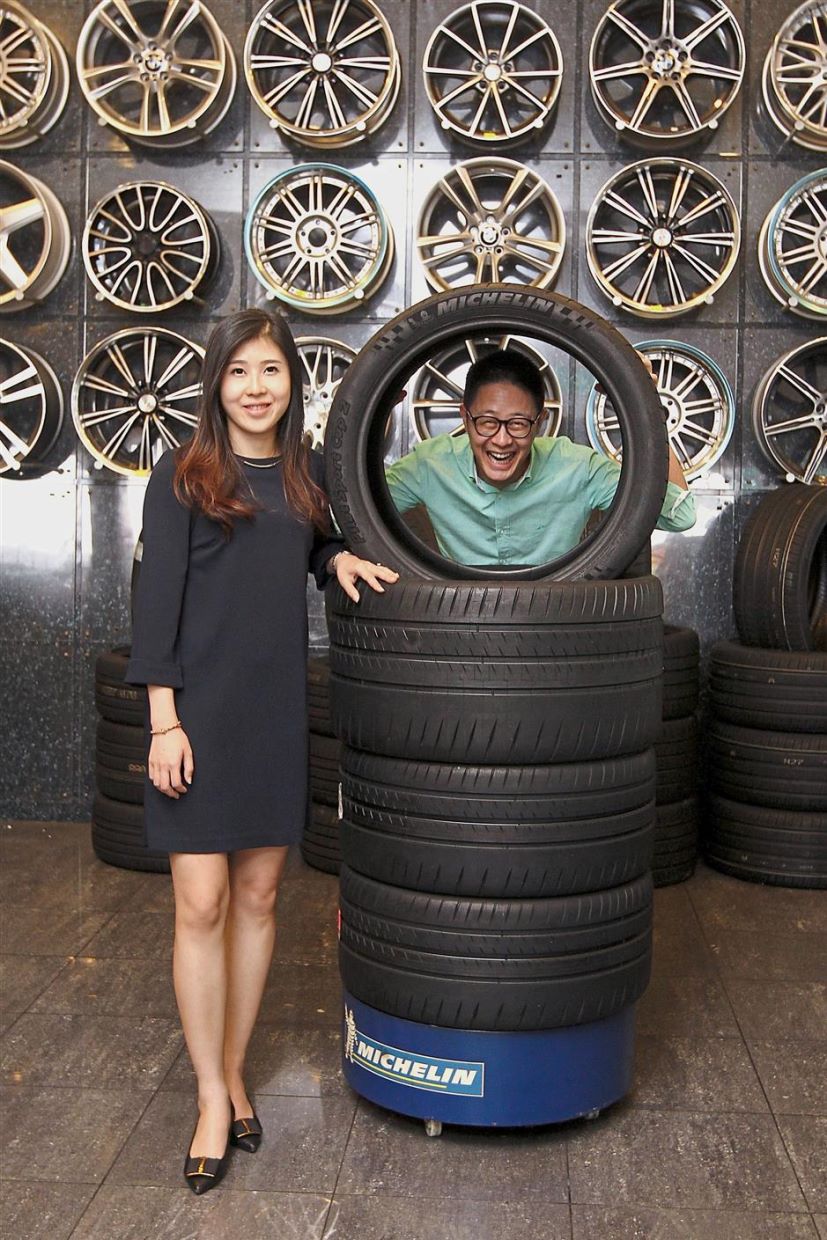 Steering the firm: Melissa and Clement are modernising the business while balancing family values and new innovative ideas.
Photograph by thestar
As the industry braces for the shift in the market, CKL has been actively sourcing for the right materials and has taken the effort to engage authorities to understand the direction that the country is taking with regards to green technology within the automotive space.
"We are still undergoing study and if the third car is going to be an electric vehicle, it will definitely impact us. So we'll need to see if we should shift our business model to more battery based. These are the discussions that we constantly have," says Melissa.
Asked if the rest of the aftermarket industry was ready for the change, and Clement points out that not many in the industry have the capacity to look too far ahead into the future. The industry is made up of many small players with neighbourhood garages and survival is still very much a pressing concern for them.
However, what would help the industry going forward is a potential liberalisation of the aftermarket. This would mean that vehicles can be serviced anywhere in Malaysia without the need to go back to the different car brands for after-sales service.
Clement says this would boost the industry and would be a beneficial move for consumers.
Looking ahead
While electric vehicles are very much on CKL's horizon, the immediate plans for growth is to go nationwide. At the moment, it has 19 outlets in the Klang Valley and one in Seremban.
"Our focus is on our bread and butter, which is Lim Tayar. Under our stewardship, we want to grow nationwide. We want to tap opportunities in other states. But we are still in talks on the means and ways to get there," says Melissa.
They are not looking at exponential growth. Perhaps one or two outlets a year, more if the right doors open.
Clement opines that its strong brand name will give it an advantage in new markets where mom-and-pop workshops typically dominate.
Its School of Skills remain a long-term commitment to boost the industry. And with growing focus by the government to build skills in the country, Melissa is optimistic that there will be more opportunities to explore in its education arm.
Building skills: The company built a vocational training institute to help with manpower issues in the industry.
Photograph by thestar
"For now, unless there are opportunities in other industries, the four or five industries that we are in should give us good comfort to grow in Malaysia and a little bit in the region.
"We could bring our expertise to other countries like, let's say, if Indonesia wants to run a skills school there or in Thailand, we can bring our tech company there. So the arsenal we have is prime to take us forward," says Clement.
What legacy will the second generation leave in the business?
"We want to mark our legacy and we still want to keep the business for the next generation. If it's possible, to contain it within the family.
"We grew up in a family where my dad really believes in family values and he instilled it in the core business values as well. And we hope to keep that and have it to last. That's what differentiates our family business versus a non-family business," says Melissa.
"At the end of the day, we want to do good for the business. All the more so because we have more sentimental value to the business than anyone would have. So psychologically and emotionally, we want to do well lah," adds Clement.
Source: https://www.thestar.com.my/business/smebiz/2018/10/15/new-breed-of-grease-monkeys/