The daughter of a successful entrepreneur is navigating the same route as her father writes Meera Murugesan
IN her white, lace embellished dress, nude heels and immaculate make-up, Melissa Lim looks like an unlikely person to be working in a business that deals with car repair and servicing.
Tyres, engine lubricants and car batteries seem like unlikely topics of discussion for such an elegant young woman but don't let appearances fool you.
Melissa is every inch her father's daughter, the man who established Lim Tayar, now a well-known name in the automotive services industry.
Melissa has always looked up to her dad, Lim Chee Kong, a mechanic who started small and worked tirelessly to set up his enterprise which is now thriving thanks to his knowledge of the automotive industry and admirable work ethics.
CONTINUING THE LEGACY
When her father asked her to return from Singapore and help out in the family business she felt it was something she had to do.
Despite a thriving career in the corporate sector in Singapore given her background in actuarial science, she decided to take on the challenges of a family business in 2012 and is now joint managing director of CKL Holdings (M) Sdn Bhd, which owns and manages Lim Tayar and also has interests in real estate, vocational education, distribution, insurance and automotive technology.
"I felt it was a calling. Everything I am is because of him. He worked so hard to get us children to where we are today," says Melissa in explaining her decision to join the family business.
While some individuals may deliberately stay away from their family business for fear of working with elders or being compared to their parents, Melissa saw it as a platform to prove her worth.
Her father needed a trusted, reliable and competent person to handle the back end of the business including finance, legal and administration matters.
Melissa's brother Clement, had already joined the family business in 2003 and was handling the front-end operations.
As receptive as she was to the idea of working with her dad and family members, Melissa soon found out that the corporate world could be very different from a family run business.
Relatives from both sides of the family are actively involved in the enterprise and she found herself working on a day to day basis with her aunties, uncles and cousins, people she would see at home or bump into during family gatherings and festive reunions.
It proved to be a fine and delicate balancing act at first but she always kept her father's advice in mind.
"He told me no matter how far you go in life or how smart you are, don't think you are the best. You have to depend on other people for something or other."

Walking in her father's footsteps.
---
DAD'S LESSONS
Melissa adds that her father's humility is the reason many of his employees have stayed on for years.
He never takes people for granted and always keeps in mind the efforts of those who helped him start and develop his vision.
The senior Lim had a hard life while growing up and worked as a mechanic after leaving school.
He started his own business in 1985 by opening a small workshop in Jalan Gombak with the help of his family members and their spouses and today, there are 21 Lim Tayar outlets.
Melissa says he started the business because he wanted to provide for his family and till today, he stresses that money doesn't matter. Family unity comes first.
But that doesn't mean family members have special treatment in the company.
As Melissa found out, soon after joining, her father was even keeping track of her attendance!
He believes that if other employees can work eight hours, she has to put in ten and must prove her worth just like anyone else.
"He would say don't tell me you're related to me, don't come in thinking you're the owner's daughter. There are no privileges."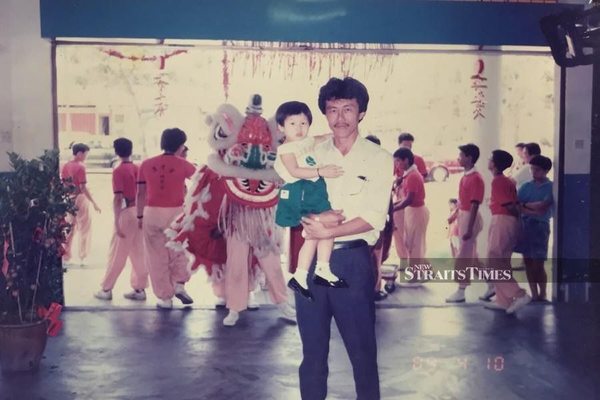 Melissa, as a child with her father at the first Lim Tayar outlet in Jalan Gombak in 1989.
---
Being in a family business also means that one rarely stops working or thinking of work she adds because the business is so much a part of their lives.
It's quite difficult to just completely "switch off" after a day at the office or even during a holiday.
Melissa says what she does in an attempt to find work-life balance is to take short weekend trips whenever she can because she loves travelling.
Those getaways help her recharge and come back ready to give her best.
Growing up, Melissa and her siblings were pretty much raised by their grandparents as both her parents worked long hours.
She hardly saw her father she admits. Her grandparents completely handled their day to day needs.
She recalls one incident when her grandfather's car broke down and he couldn't send the children to school.
"My dad had to drive us and he turned to us and asked, where is your school?"
But despite not being a hands-on father when the children were growing up due to his demanding work schedule, Lim made sure that all of them had the best education.
All the children studied abroad, a remarkable achievement for a man who started out as a mechanic.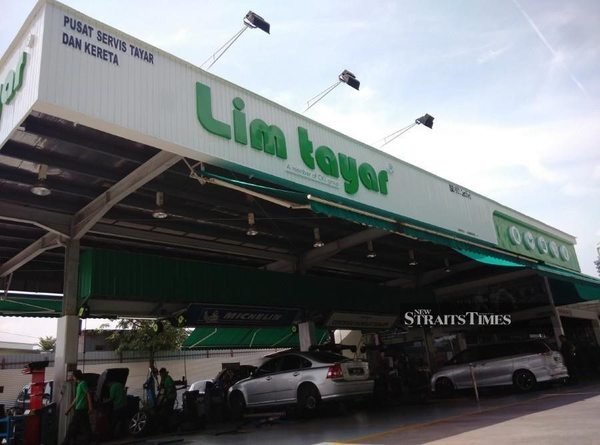 Lim Tayar, a well-known name, was established by Melissa's father with the help of his family members and their spouses.
---
Melissa says from her parents she has learnt that hard work and persistence is the key to success.
It's something she puts into practice in her day to day life. She adds that being a woman in a man's industry has never fazed her either.
She does her best to be transparent and honest in whatever she does and believes that man or woman, if one has those core values, one can excel.
Too many women she explains tend to let the opinions of others affect them.
"As a woman, don't keep thinking that you can't do it or that it's a man's field. I never give up. I make sure I get the job done. There are only three things in life: persistence, persistence and persistence!"